"A Day in the Life" Quarterly Video Contest
We work in an industry that is vital not only to families, but also to the economy of our nation. A career in multifamily is not a pitstop! It provides a lucrative career path for thousands of people. That's why it is imperative that we actively recruit new blood into the fun and ever-changing multifamily industy. The SWFAA Career Center & staffing companies, such as SWFAA members, ABT Temporary Services & BG Multifamily Staffing stay busy recruiting and filling positions because our industry is thriving! Check out the national job snapshot below: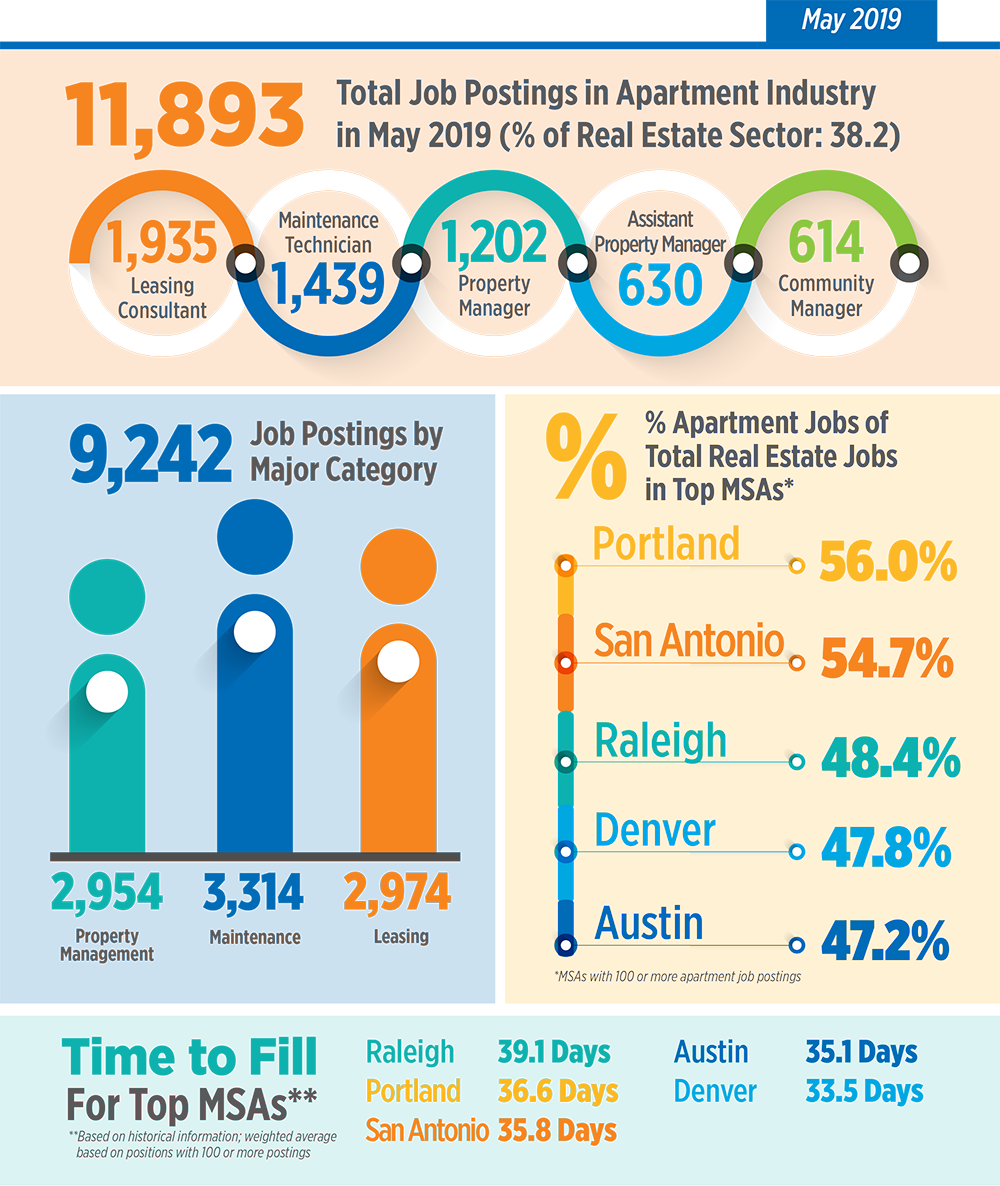 Multifamily is one of the few industries offer the ability to start at the bottom and experience rapid career growth. This is a vaild reason to enter the multifamily industry! Institutes of higher education, like Valencia University, are now offering Associates Degrees in Residential Property Management that may be earned online. Those interested in trades may enter our industry at competitive wages and work their way up the ladder. In addition, NAA, FAA & SWFAA are committed to providing ongoing education to support career growth.
BOTTOM LINE... MULTIFAMILY IS A GREAT PLACE TO BE!
To do our part in promoting careers in the multifamily industry, SWFAA would like to publish a series of short videos to use as promotional tools to engage the next generation and to educate them on career choices in multifamily. Therefore, we are asking members to shoot a 30 second informative & fun video highlighting a "Day in the Life" of for the following 2 categories:
Videos should be submitted to holli@swfaa.org by the last day of each quarter, and although we may use all videos submitted in our marketing campaign.. one winner from each category will be selected to receive your choice of:
Breakfast or Lunch catered to your office on your selected date
Happy Hour catered to your office including beer, wine & light appetizers on your selected date
So get out your your selfie sticks and get your team together to produce the winning video!
DEADLINE FOR Q3-2019 SUBMISSION IS SEPTEMBER 30, 2019! Non-winning videos will be eligible to win in the following quarter's contest!

LEASING- Our Q2 Winner, Inspira!
MAINTENANCE