SWFAA Exhibitor Hub
Your source for all Trade Show updates!
THE SUMMER BLOCKBUSTER YOU DON'T WANT TO MISS!

Whether you're new to the SWFAA trade show or a longtime friend, we know this is going to be a fun and successful show!
This year's' theme, "At the Movies", gives those that participate a chance to engage visitors sharing their favorite movies, characters, stars... this should be good!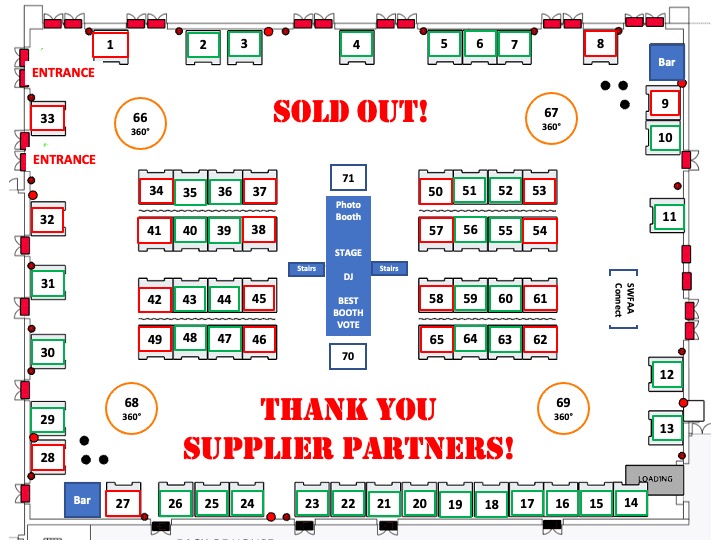 Download to acknowledge terms & conditions.
ACKNOWLEDGE TERMS & CONDTIONS HERE
Show Day Schedule
July 20

3:00 PM - 5:00 PM

Exhibitor Setup

ALL EXHIBITORS must enter through main lobby for setup. Special equipment requests must be approved for entrance at loading dock. ALL EXHIBITORS must check-in at box office to receive your exhibitor packet including name badges, food tickets, & any pre-purchased $5 beverage tickets. You may also purchase beverage tickets at this time for $6 each. Save time & money by pre-purchasing drink tickets when you purchase your booth! We accept CASH, Checks, Credit/Debit, ApplePay & Venmo ATM onsite
5:00 PM - 5:30PM

Pre-Show Exhibitor Rally

We'll be giving out exhibitor instructions and getting you pumped up for SHOWTIME!!! You may also purchase beverage tickets at this time at the box office. Save time and pre-purchase drink tickets when you select your booth(s)!
5:30 PM - 8:30 PM

Floor Opens for Property Guests

All property guests must check-in at the registration desk prior to entering the trade show floor and to get food truck tickets (included in registration). Don't forget to bring your event tickets and at least 70 business cards for chances to win prizes from exhibitors. Tickets purchased on show day will be $20 vs. the $10 online pre-purchase price. Beverage tickets may also be purchased at check-in.
7:30 PM - 8:30 PM

Exhibitor Prize Giveaways

We'll be traveling to each booth with a microphone to introduce you and do prize drawings from your company.
8:30 PM - 9:00 PM

Exhibitor Tear Down

No booth tear down may may start prior to 8:30pm.