Back to Events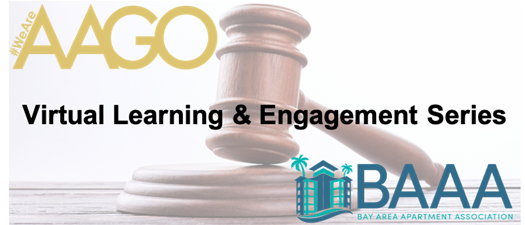 GOTCHA Lawsuits & How to Avoid Them
Sign up now for this FREE Zoom Webinar Hosted by AAGO & BAAA
Thursday, December 3, 2020
11:00 AM - 12:00 PM (EST)
Event Details
Frivolous lawsuits against multifamily operators are on the rise.
Our panelists will provide legal and operational advice for apartment practitioners to mitigate the risk of phone in/surf by lawsuits.
Topics will include...
The current legal landscape for the apartment industry
ADA/FHA website accessibility "surf by" lawsuits
Training onsite teams on how to appropriately respond to phone inquiries regarding criminal background screening procedures
Steps to take if you receive a demand letter from a plaintiff's attorney
Resources and technologies available to apartment owners and operators
This interactive program will give you the opportunity to gain insight from legal experts and the owner/operator perspective.
This Zoom webinar is FREE for SWFAA Members thanks to AAGO & BAAA!
Make sure to login to your account to register for free.
Meet Our Presenters
| | | |
| --- | --- | --- |
| | | |
| Drew Sorrell | Ryan McCain | Bonnie Smetzer |
| Lowndes Law | Barfield/McCain, PA | JMG Realty, Inc. |
| Expert Panelist | Expert Panelist | Expert Panelist |