Back to Events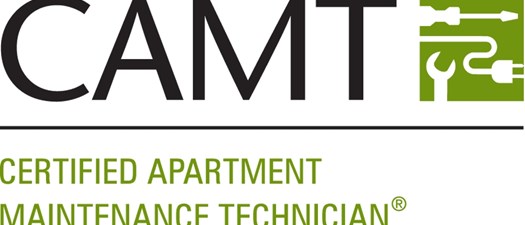 5 Day CAMT Course - Spring 2023
Get your CAMT and make cost-effective repair decisions!
Tuesday, May 9, 2023
at
9:00 AM (EDT)
to Wednesday, May 17, 2023 at 5:00 PM (EDT)
Event Details
5-DAY COURSE: May 9, 10, 11, 16, 17
Earn your CERTIFICATE FOR APARTMENT MAINTENANCE TECHNICIANS and advance your career in apartment maintenance! This program which includes 5 days of classroom technical modules & 2.5 hours of online modules will provide you with the knowledge & tools necessary to run a cost-effective maintenance program.
The course will be instructed by our friend and National Apartment Association Education Institute Advanced Trainer, Robert Reck, of SWFAA Supplier Member comany RezCor. Robert's teaching style is a hit with our members, as he brings fun and real life scenarios into the classrooom. The class is interactive, we bounce ideas off of each other, and our students always leave having made new friends. ONLINE MODULES & EXAM WILL TAKE PLACE ON THE FINAL DAY OF CLASS. .

Course materials, instruction, exam & lunch included daily.
A BIG THANK YOU TO SWFAA EDUCATION PARTNER:
LUNCHES COURTESTY OF:
CAMT Module Requirements:
TECHNICAL (classroom)
Interior & Exterior Maintenance & Repair
Electrical Maintenance & Repair
Plumbing Maintenance Repair
Heating, Ventilation & HVAC Maintenance & Repair
Appliance Maintenance & Repair
CAMT Modules:
NON-TECHNICAL (online)
Welcome to the Industry
Customer Service
Teamwork
Time & Project Management
Money Matters
Documentation & Paperwork
Maintenance & Emergencies
Safety First
Compliance
REMEMBER! IT'S THE LAW!
Only those with CAMT certifications may perform repairs on HVAC & Water Heaters (up to $1,000 in parts). So get legal now to avoid costly fines!
For More Information:
Holli Noel-Depold
FAA Leadership Lyceum Graduate
Executive Director
SWFAA
(239)849-6176
MEDIA POLICY:
By registering for this event, you are authorizing the Southwest Florida Apartment Association to reproduce, copyright, use, publish, and/or display, now and hereafter, your personal image, name, likeness, photograph(s), testimonial for any legitimate association purpose for print and electronic usage.