07.12.22 | Caloosa Sound Convention Center | Fort Myers, FL
ATTENTION SWFAA SUPPLIER PARTNERS!
SPONSORSHIPS & BOOTH SALES NOW OPEN!
ONLY SWFAA Supplier Members may sponsor, purchase exhibitor space and attend!
---
SPONSORSHIPS
BE EXTRA! Choose from a variety of sponsorship opportunities at $250 each. Must purchase an exhibitor booth to participate.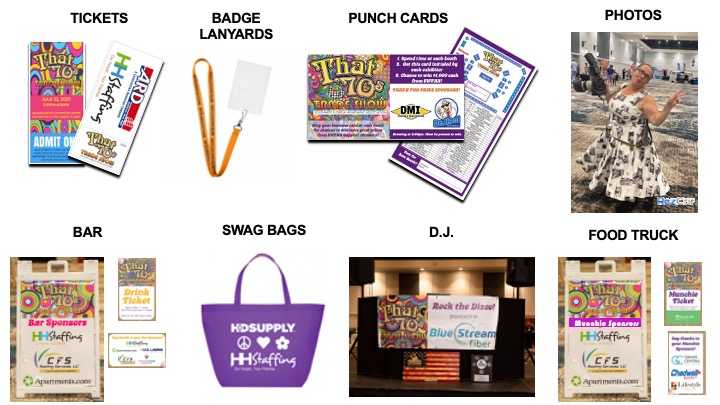 (Photo examples from 2021 Trade Show)
---
EXHIBITOR BOOTH SALES
Standard Booth: One 6' table, 2 Chairs & 2 Food Tickets and admission for 2 company representatives at $450.
Double Booth: Two 6' Tables, 2 Chairs & 4 Food Tickets and admission for 2 company representatives at $.
Premium Location booths at Entrance, Bars & Stage (noted in yellow on floor plan below).
Complimentary Wi-Fi
Electricity (please select in registration)
You will select your top 3 booth number choices from the floor plan below, and we will try to accommodate your request, while keeping in mind to keep competitor companies spaced apart.
ADD ONS:
Additional Booth Guests may be added at $25 each- includes food ticket(s).
Attendee event tickets to gift to clients & prospects at $10 each- includes food ticket(s).
Pre-Purchase Drink tickets at $5 each (beer & wine = 1 ticket, signature cocktail = $10). Drink tickets purchased on show day will be $7 each and must be paid with cash or credit card- no invoicing.
NO OUTSIDE ALCOHOL PERMITTED
Unless part of a prize giveaway, and then must remain capped.
---
FLOOR PLAN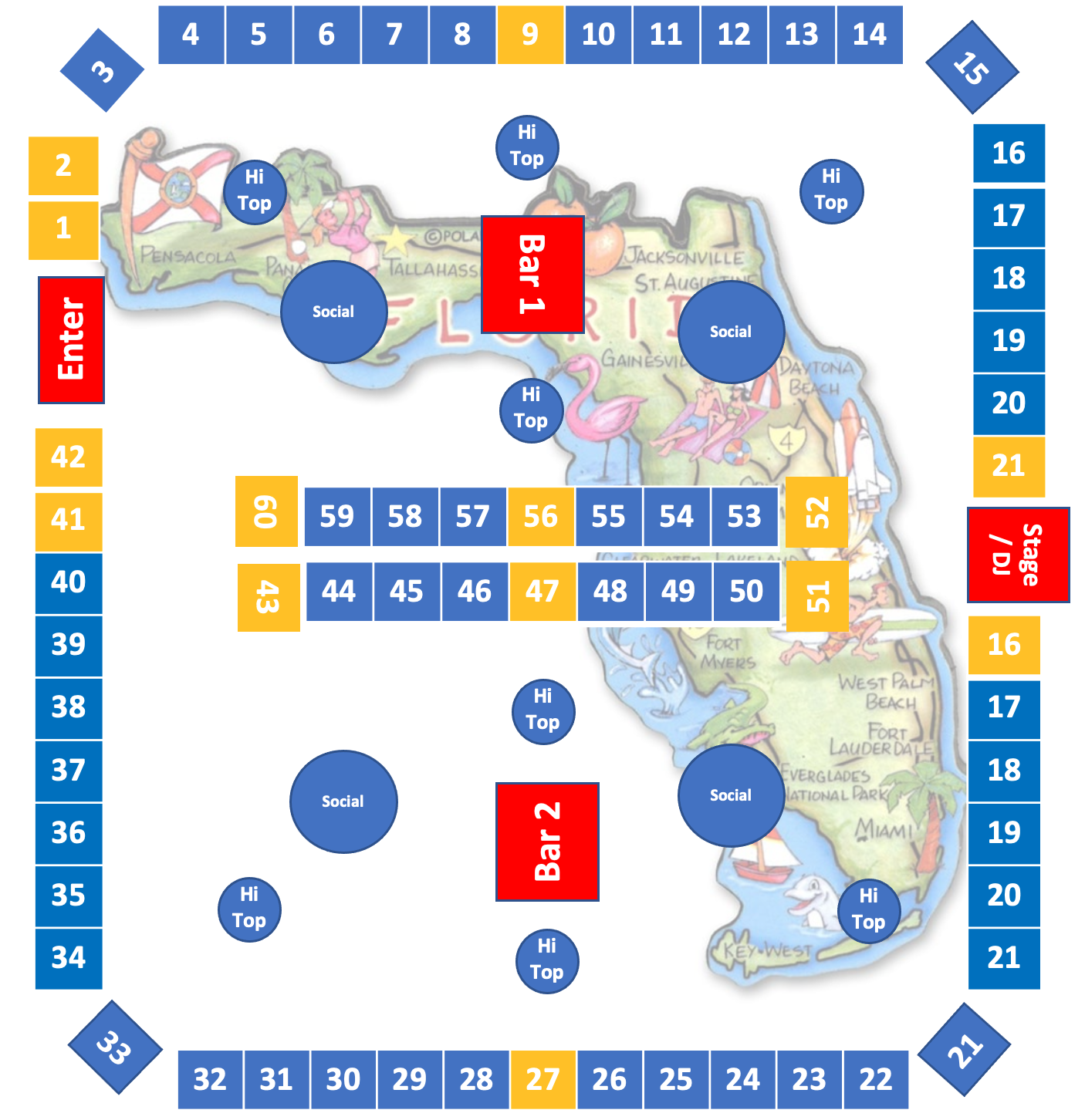 ---
THEME
The "Florida State of Mind" theme lends itself to all the wonderful things that make Florida unique! (Beaches, Theme Parks, Sports, Cities, History, Agriculture, etc.) Get creative! Your booth will be voted on by property guests, with the winning booth's company receiving a Supplier Spotllight listing on the home page of swfaa.org for the remainder of 2022!
Need help brainstorming?
Reach out to Holli@swfaa.org, as she has a list of ideas. It would be great if everyone could confidentially share the basic idea of your booth with Holli as well so she doesn't share your idea with another exhibitor!
---
GUEST PRIZE GIVEAWAYS
Each exhibitor is encouraged to bring a giveaway that will be radomly selected from business cards left at your booth (you'll need a jar/container to collect cards. At the end of the evening, we will travel fom booth-to-booth with the microphone giving shout-outs to your company and drawing the guest winners!
---
CLICK HERE TO SEE PHOTOS FROM THE 2022 SHOW TO KNOW WHAT TO EXPECT!